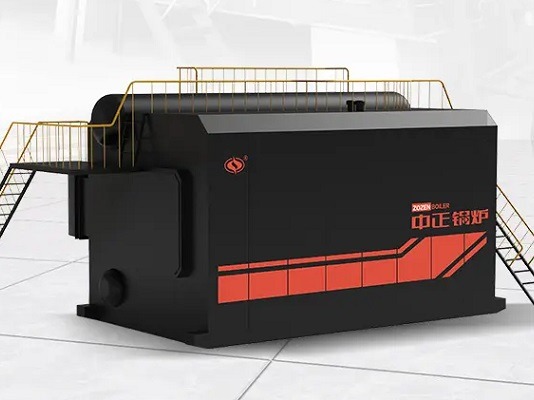 Heating Capacity: 7-70 MW
Working Pressure: 1.0-1.6 Mpa
Available Fuel: Nature gas, coke oven gas, blast furnace gas, carbon black off-gas, biogas, methanol, etc.
Available Industries: heat suppling, hospital, colleges and universities.
Product Introduction:SZS Series Boiler is double drums, longitudinal arranged, "D" type chamber structure. Furnace is on right side and convection tube bundle is on the left. The body is fixed on the basement by middle and both end flexible supports and make the boiler to expand horizontally to sideways. Around furnace is membrane water cooling tube wall.
Description of Boiler
Furnace and tube bundle is totally separated by the membrane water tube cooling wall at the left side of the furnace. The back part of bundle is sparse shift structure, front part is aligned structure. Smoke from furnace outlet enters re-burning chamber, bundle area, and then from left front part enters spiral fin coil economizer and condenser, finally discharged to atmosphere through chimney. The SZS series hot water boiler is equipped with a combustion chamber and a heating surface outside the drum. Water, steam or a mixture of steam and water flows in the tube, and flame and flue gas burn and flow outside the tube. It has a very fast steam and water flow rate and an excellent water circulation system. The heat absorption rate and thermal efficiency of the boiler have been greatly improved. The boiler is composed of two parts: the main body and auxiliary equipment. With the advancement of water treatment technology, it can ensure that the boiler will not scale up after long-term operation. The elbow pipe with a larger heating area has been adopted to improve the various performance of the boiler.
Technical Advantages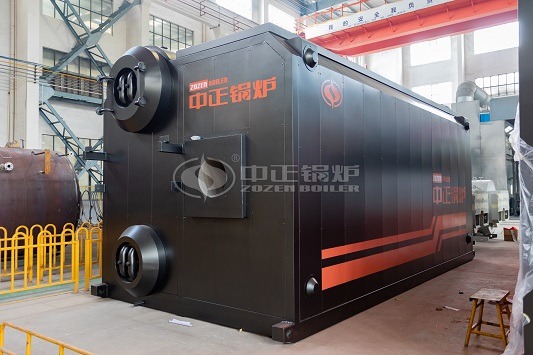 Safety
Boiler body high temperature area adopt forced circulation to make sure each part heating area can be cooled down and avoid vaporization;
Hot water boilers has explosion door and flame detector for safe and reliable operation. The comb plates are used as the sealing between both sides of boiler and tube bundle all use to avoid leakage of condensate and gas which is caused by refractory concrete sealing. Air tightness test is done before leaving the factory to ensure no leakage of gas.
Environmental Protection
Bigger combustion chamber and Low emission combustion engine to reduce the NOX to 30mg/Nm3
Smoke duct and smoke outlet has internal insulation to reduce operating noise.
Combustion chamber use full membrane water cooling wall structure, pressurized firing without smoke mixture.
Energy Conservation
Good quality alumina silicate fiber and fire clay insulation is used, boiler body temperature is controlled below 45℃, to reduce heat lost.
Combustion chamber use narrow distance tube membrane water cooling wall which has good air tightness, and reduce heat lost and increase boiler thermal efficiency.
Inside of Inspection holes use high-alumina refractory and man hole cover sealing devices, it solved the high temperature of this part by using refractory brick

Convenience
Thera are manholes on front and back side of both bundle and inspection doors on back side of boiler, which are easy to open for inspection and cleaning inner part.
Longer Lifespan
Membrane structure of Front and back wall is used for boiler body, which highly increased their lifespan to over 20 years.
The key part such as material cutting, rolling, drilling are proceeded by advanced CNC machining process to reduce the assemble stress and extend boiler working lifetime.
The flutter prevention fastener is used for high temperature part convection tube, which avoid bundle tube cracking problem.
Longitudinal and girth joint adopt advanced automatic submerged-arc welding for good welding quality. All longitudinal and girth joint will have 100% radiographic inspection.
Customers In Use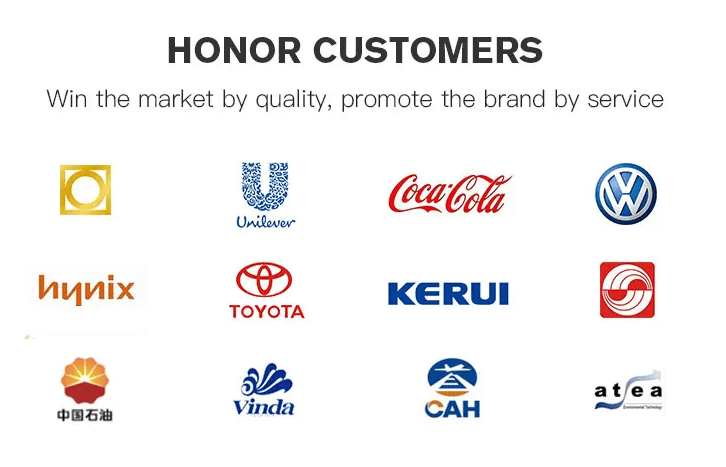 SZS Series Hot Water Boiler Ultra-Low Emission Technology
Staged combustion technology
The combustion process in the furnace is designed into three areas to complete the burn-out process, so as to realize the staged combustion of fuel and air.
FGR flue gas recirculation technology
From the exhaust port of the boiler through the external pipe, some of the flue gas is drawn back to the suction port of the burner and added to the furnace for recirculation.
FPB full premixed combustion technology
Before ignition, the gas and air are completely mixed and evenly mixed and sent to a special combustion head for combustion. The flame temperature can reach more than 1000 ℃.
About ZOZEN'S
Relying on the accumulation of more than 30 years of manufacturing boilers, the company has formed more than 400 varieties and specifications such as gas boilers, biomass boilers, coal-fired boilers, and thermal oil boilers, and they are widely used in chemical, food, wine, heating, papermaking, Printing and dyeing, rubber and other industries. The company currently has advanced production technology and equipment in the industrial boiler industry. The main equipment includes: high-speed CNC plane drills, CNC drum drills, robotic welding equipment, 3D laser cutting machines, 4-axis CNC pipe benders, Φ168 CNC three-dimensional pipe bending equipment, 600 sets of 100mm three-roller CNC universal bending machine, serpentine tube production line, CNC coiled tube production line, film wall production line, etc. The main components of the boiler products have achieved specialized and large-scale production. The vast majority of products can meet customers' needs for short delivery.