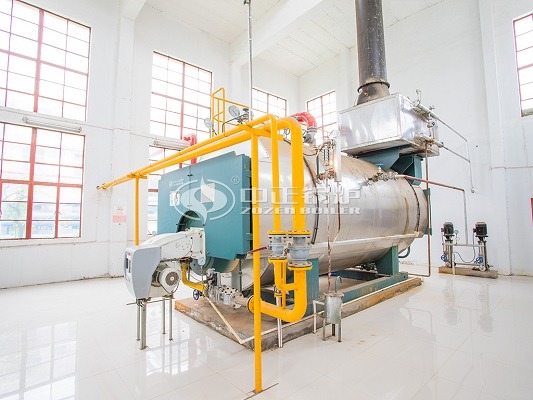 Boiler Capacity:1-20 t/h
Planned Thermal Power: ≥95% (energy saving about 20% compared with similar products)
Available Fuel: Nature gas, coke oven gas, biogas, liquid propane gas, diesel, heavy oil, light oil, crude oil, etc.
Application Scale: chemical, plastic, rubber, construction industry, forestry, pharmaceutical industry distillation, etc.
Product Introduction:ZOZEN'S WNS oil/gas steam boiler is a series of mature products of our company, equipped with optimization, each technical target has reached the advanced level. WNS type horizontal automatic oil/gas steam boiler is not only equipped with a good technical function of the industrial burner, smoke box cover also has a large promotion, the boiler is equipped with a movable smoke box cover, so that the boiler easy to overhaul. ZOZEN'S WNS series oil/gas steam boiler boiler really do clean combustion, emissions pollution-free, fast operation, enough output.
Description of Boiler
Adopt the international mature three return full wet back structure, safe and reliable. The furnace adopts waveform furnace, which not only strengthens the flue gas disturbance, but also increases the radiation heat transfer area; It not only increases the stiffness of the furnace, but also effectively weakens the thermal stress of the furnace. It not only enhances the heat transfer effect, but also promotes the combustion of fuel in the furnace. The whole heating surface is symmetrical arrangement, the structure strength is firm, the water circulation system is reasonable. The water capacity of the upper cylinder is large, the steam space is large, the steam quality is good, and the water level fluctuates little during the operation period. Large distance between the two cylinders and large pipe diameter ensure good natural circulation. The unique furnace setting and flue gas scour mode to the hot surface make the heat dissipation loss of the boiler small.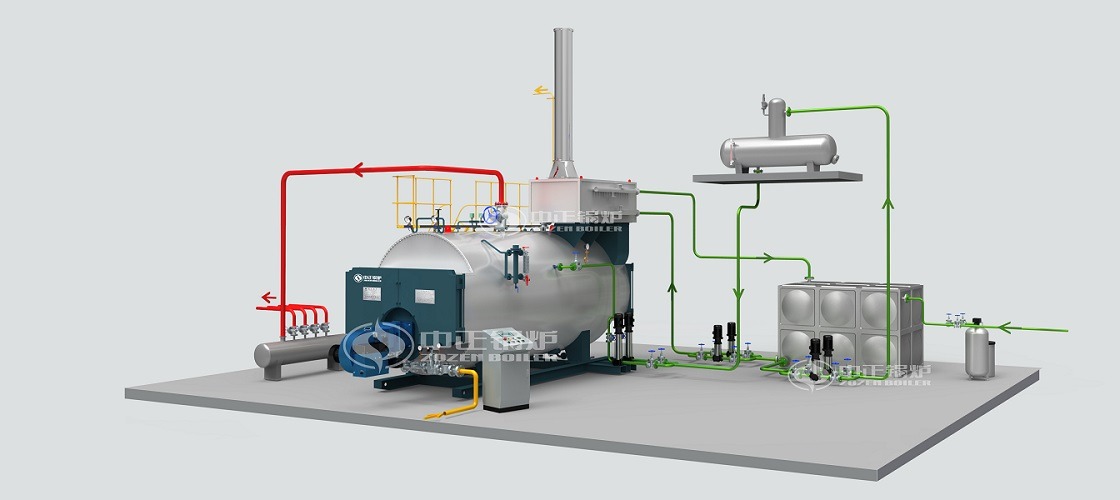 Oil/Gas Steam Boiler Details
Preset after purge function, improve burner working condition, prolong boiler life;
Unique large combustion chamber design, increase the radiation heating area of the furnace, reduce NOx emissions;
The boiler before and after the smoke tube box adopts multi-stage sealing mode, easy to maintain the smoke box;
The horizontal structure has sufficient heating area, sufficient heat transfer, stable operation and high combustion efficiency under the condition of load change;
Horizontal wet-back boiler adopts touch screen controller, digital inspection system, boiler operation to achieve automatic control.
Boiler Characteristics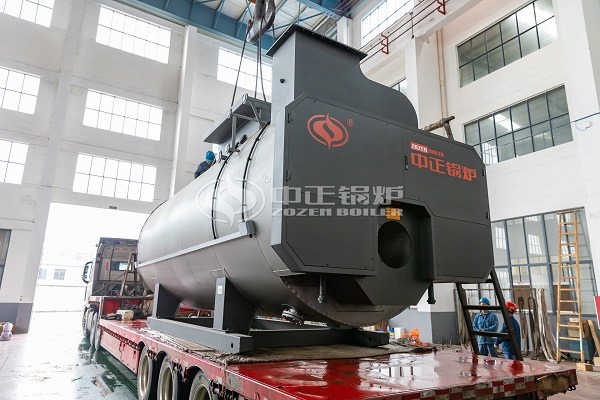 The unique big combustion chamber structure design, the three return all wet back structure, keep the strong radiation heat transfer capacity at the same time, low temperature combustion, improves the thermal efficiency of boiler, reduced emissions of NOX, efficient environmental protection.
Using thread smoke tube, increase the heat transfer effect, improve the thermal efficiency of boiler.
Before and after the boiler smoke box adopts multistage sealing way, don't smoke.
With larger steam space, steam quality is good.
Water level of steam pressure, exhaust temperature, such as multiple protection, safe and reliable.
Efficient heat preservation material, to ensure the boiler surface temperature is low.
Can form a complete set of Korea heat boiler economizer patent products, save fuel costs 5-15%, will be upgraded to a condensing boiler boiler.
To set up more drainage, make boiler heating surface more clean.
Oil/Gas Steam Boiler Product Parameter
Model
Rated steam capacity(t/h)
Rated working pressure(Mpa)
Rated steam temperature(℃)
Maximum transport size(m)
(L×W×H)
WNS1-0.7-Y(Q)
1
0.7
170
3.3×1.8×2.1
WNS1-1.0-Y(Q)
1
1
184
3.3×1.8×2.1
WNS1.5-1.0-Y(Q)
1.5
1
184
3.0×1.8×2.0
WNS1.5-1.25-Y(Q)
1.5
1.25
194
3.0×1.8×2.0
WNS2-1.0-Y(Q)
2
1
184
4.4×2.1×2.5
WNS2-1.25-Y(Q)
2
1.25
194
4.4×2.1×2.5
WNS3-1.0-Y(Q)
3
1
184
4.6×2.3×2.6
WNS3-1.25-Y(Q)
3
1.25
194
4.6×2.3×2.6
WNS4-1.25-Y(Q)
4
1.25
194
4.7×2.5×2.9
WNS4-1.6-Y(Q)
4
1.6
204
4.7×2.5×2.9
WNS5-1.25-Y(Q)
5
1.25
194
5.3×2.7×3.3
WNS5-1.6-Y(Q)
5
1.6
204
5.3×2.7×3.3
WNS6-1.25-Y(Q)
6
1.25
194
5.9×2.6×3.0
WNS6-1.6-Y(Q)
6
1.6
204
5.9×2.6×3.0
WNS8-1.25-Y(Q)
8
1.25
194
5.9×2.8×3.1
WNS8-1.6-Y(Q)
8
1.6
204
5.9×2.8×3.1
WNS10-1.25-Y(Q)
10
1.25
194
7.7×2.8×3.1
WNS10-1.6-Y(Q)
10
1.6
204
7.7×2.8×3.1
WNS15-1.25-Y(Q)
15
1.25
194
7.0×3.1×3.6
WNS15-1.6-Y(Q)
15
1.6
204
7.0×3.1×3.6
WNS20-1.25-Y(Q)
20
1.25
194
8.3×3.4×4.0
WNS20-1.6-Y(Q)
20
1.6
204
8.3×3.4×4.0
FAQ
Q: How about the quality and whether the product is guaranteed?
A: The drawings of our products are designed by Zozen engineers in accordance with boiler standards, and the products are manufactured by technical manufacturing personnel. In addition, each of our products will undergo X-ray inspection, hydraulic test, boiler operation test and other tests before leaving the factory, so as to ensure the safety and reliability of the products delivered to customers.
Q: How long is the delivery time? Do you have the goods in stock?
A: The delivery time will also change depending on the size of the boiler model.
Stockpiling: If you want to know the stockpiling situation, you can consult online!