Hot Sale
Industrial Boilers Equipment
Zozen Boilers industrial boiler equipment has a good reputation and trust of customers. The Steam boilers factory main products are steam boilers (oil and gas steam boilers, coal-fired biomass steam boilers, low nitrogen condensing steam boilers), hot water boilers (oil and gas hot water boilers, coal-fired biomass hot water boilers) and thermal oil boilers.
We can guarantee the high quality and high automation of our boiler equipment. Zozen Boilers has rich experience in boiler design, processing, production, sales and other fully automated and computerized systems.
Zozen Boilers Strength & Quality Assurance
Wuxi Zozen Boilers Co.Ltd is a technological innovation-based enterprise in China.
Xi'an Jiaotong University and Tsinghua University are the company's powerful support on technology innovation and R&D.
Zozen Boilers owns an experienced technical R&D team, owns a number of national patent technologies.
Zozen Boilers pay more attention to boiler quality. To ensure boiler has a high quality, Zozen Boilers has a set of stric standard and management system of boiler raw material management. Zozen Boilers has advanced raw material testing equipment, build the first class metallographic laboratory, physics laboratory, and chemical elements laboratory.
Moreover, Zozen Boilers is equipped with multiple flaw detection test equipment, including Circumferential and directional X-ray inspect machine, XXQ and XCF series X-ray inspect machine, intelligent ultrasonic flaw detector, micro amgnetic yoke flaw detector, etc. Multiple boiler could be inispected on time, to ensure the boiler has reliable quality.
What Are Industry Boilers For Sale In Zozen Boilers Company?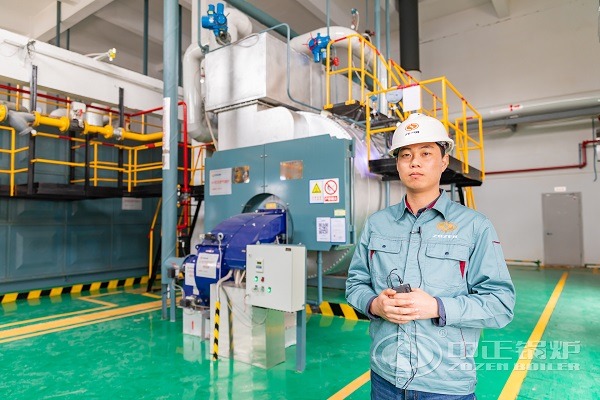 The company comprehensively implements computer information management and 6S site management. The main products include series of : industry boiler, thermal oil boilers, hot water boilers, power plant boilers, special heat recovery boilers, biomass boilers and pressure vessels. There are more than four hundred varieties and specifications, i.e. the steam boiler and hot water boiler of YLW series and YY(Q)W(L) series coal fired, biomass fired, gas fired organic heat carrier boiler, DZL type single drum with chain grate, the steam and hot water boilers of SZL type double drum with chain grate, the WNS type horizontal three return back steam and hot water boiler, the SZS type double drum oil/gas combustion D-type steam and hot water boilers, steam and hot water boilers of SHL type horizontal arranged double drum with chain grate, the CFB steam and hot water boilers designed by Tsinghua University, big size DHL corner tube hot water boiler jointly development with Xi'an Jiao Tong University, the new DZL type water-fire tube (hybrid) hot water boiler jointly development with the Boiler Research Institute of Beijing Light, the DHL type single horizontal drum P-type large hot water boilers which was self-development and owns intellectual property right, 10-220t/h medium and high temperature/pressure power plant boilers, combined cycle power generation with waste heat recovery device, the waste heat boilers for the industries of metal, chemical etc., and biomass fuel boilers etc.
Professional Steam Boilers Factory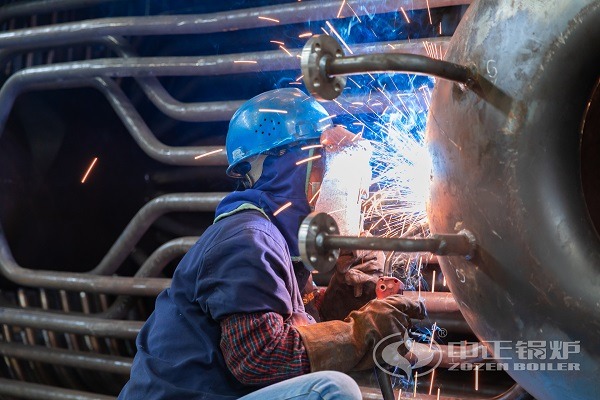 Digital components with high machining precision, quality assurance, welding and assembly is boiler is boiler introduced advanced numerical control, digital equipment, including: high-speed CNC plane drilling, CNC rotary drum, 3D laser cutting machine, four axis CNC pipe bender, Φ 168 CNC pipe bending equipment, 100 mm three-roll machine, coil production line, CNC universal type nc coil line, diaphragm wall line, 600 sets, the blanking nc rate reached more than 80%.
In recent years, Zozen boiler has carried out large-scale welding technology revolution, eliminated the traditional manual welding operation with low efficiency and poor stability, and adopted mechanical welding and automatic welding with high efficiency and good stability for production. A large number of imported automatic welding equipment has been enriched and updated to realize the automation of welding all the main parts from pot barrel, membrane wall, coiled pipe to steel frame.
At the same time, in the welding process, a large number of welding positioner is used, so that the welding position is always in the ideal flat welding position, and through strict control of pre-welding cleaning and groove size, so that the weld quality has a reliable guarantee.
Overcoming or reducing the human factors affecting product quality is an important means to improve the technological level. For the assembly of products, Zozen boiler has realized the mold of assembly, reduced the traditional processing means of line-drawing assembly, eliminated the line-drawing errors, and ensured the neat and uniform products.
Zozen Boilers Steam Boilers Factory Advantages
Zozen has many years of experience in international trade;
Zozen is boast of the rich experience, advanced equipment and the professional team;
Zozen runs strictly according to the standard of ISO, is the AAA-grade credit enterprise;
Zozen sales its products abroad by convenient transportation, neighboring the Transportation hub;
Zozen provides all-around services to the customers efficiently and timely;
Zozen has always been adhering to the business interests of users as their own duty, service and society.
Latest Cases