The biomass thermal oil boiler uses heat-conducting oil as the heat-conducting carrier, which can be used as a high-temperature heat source in various environments below 350 °C. Biomass thermal oil boilers are widely used in various industries that require high temperature heating or drying. This product has the advantages of high temperature, low pressure, precise temperature control and high utilization rate of heat energy. The thermal oil boiler can also be equipped with a steam generator to generate saturated steam below 1.3MPa for users to use.
ZOZEN'S is customer-oriented and provides safe, reliable and energy-saving system solutions for customers in different industries. The boiler product is a horizontal square box structure and adopts a mechanized chain grate. The heating surface is made of 20 (GB/T3087-2008) seamless steel pipes with two specifications of φ76×4mm and φ38×3mm. The import and export headers are made of 20 (GB/T3087-2008), φ159×6mm seamless steel pipes.
The biomass thermal oil boilers medium is pumped into the inlet header by the circulating oil pump. The inlet header is connected to the inlet of 25 serpentine convection pipes of φ38×3mm. The outlet of the serpentine convection tube is communicated with another convection radiation header. The rectangular radiant coil is made of 4 20 (GB/T3087-2008) seamless steel pipes of φ76×4mm coiled at the same time. Its inlet is communicated with the convection radiation header, and its outlet is communicated with the furnace top tube.
This type of boiler top tube system consists of four 20 (GB/T3087-2008) seamless steel tubes of φ76×4mm. Its inlet is communicated with four radiant tubes, and its outlet is communicated with the outlet header. The YLW thermal oil boiler medium is sent to the heat-using equipment after the serpentine convection tube, rectangular radiant coil and furnace top tube absorb heat and enter the upper outlet header tube.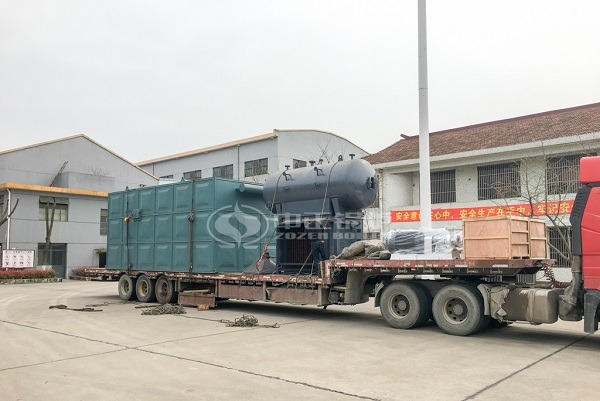 YLW series thermal oil boiler is a high temperature, low pressure, energy saving equipment, the heating temperature can be as high as 320℃. This series of boilers have high temperature and low pressure, and can obtain higher working temperature under lower operating pressure. The pressure-bearing conditions of heat-using equipment can be reduced and the equipment cost can be reduced.
The heating surface of the biomass thermal oil boilers is reasonably arranged, and the heat transfer oil has a long service life. If you need detailed parameters and quotation of thermal oil boiler, please contact us, we will arrange professional technicians to connect with you!