Gas thermal oil boiler is heavy oil, light oil or flammable liquid as fuel. Heat conduction oil is the heat carrier. Using a circulating oil pump to force liquid phase circulation. After the heat energy is transferred to the thermal equipment. It is then returned to the reheated direct flow special industrial furnace. Widely used in such as petrochemical, textile, printing and dyeing, plastic, rubber, food processing, wood processing, asphalt heating, carton production, vegetable dehydration, baking paint, casting sand mold drying, can also be used for ≤ 350℃ baking, steaming, shaping, melting, drying.
This series of thermal oil boiler burner should have gas high pressure and low pressure protection (to prevent tempering), wind pressure protection, valve leak detection, fire monitoring, flame-out protection, in program design must ensure that the burner has start purging and stop purging function, at the same time must and interlocking control, the boiler control system for boiler pressure and liquid level control and protection.
The heat transfer surface of the boiler adopts the structure of spiral close arrangement coil tube and three flue gas return structure. Optimization of space heat transfer intensity and enhancement of convection. Gas thermal oil boiler uses double layer or multi-layer spiral close row coil to form the heating surface. The inner coil is the burning radiation heat transfer surface, and the gap between the inner coil and the middle coil or the outer coil forms the heat transfer surface of the flue gas. The tail of the boiler is arranged with air heat exchanger or water/steam heat exchanger for waste heat absorption, heating area is sufficient, reduce the boiler exhaust temperature, improve the thermal efficiency of the boiler.
Gas fired thermal oil boilers quick door or inspection manhole structure design, easy internal inspection and maintenance. The use of high quality refractory and insulation materials, high thermal strength, good insulation effect, reduce heat loss, improve thermal efficiency. The boiler heat transfer structure is matched with the burner, and the comprehensive low gas oxide (NOx) control technology including flue gas recirculation (FGR) is used to achieve high combustion efficiency, low pollutant emission, and ensure that the NOx discharge meets the environmental protection emission requirements of the boiler.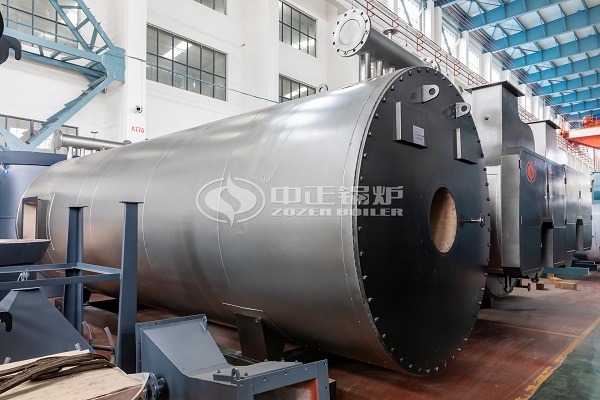 The boiler adopts multi-coil and multi-return heat transfer structure, with sufficient heating surface to ensure output and efficiency. Boiler heat exchange surface pipe adopts automatic gas shielded welding, automatic real-time online detection, quality stability and reliability are guaranteed. The boiler adopts integral or quick installation structure, complete set, convenient installation and short cycle. The burner adopts foreign imported famous brand, safe and reliable. Gas thermal oil boiler adopts advanced electromechanical integration automatic control technology, which can realize automatic control. With automatic temperature regulation, automatic ignition, and differential pressure, over temperature, flame out, leak detection, fan, oil pump overload and other multiple interlock protection functions. Remote man-machine interaction and data sharing can be realized through the mobile Internet.