Thermal oil boiler, also known as organic heat carrier boiler, which takes thermal oil as medium and uses thermal oil circulation pump to force the medium to circulate in liquid phase, which conveys heat energy to heat-using equipment and then returns to heating furnace for reheating, which can realize low-pressure and high-temperature heating and has wide market application. ZOZEN boiler improved and upgraded thermal oil boiler with the advantages of uniform temperature and precise temperature control, has become the heat source partner of the building materials and wood industry, Huayuan mineral wool board, Amestrong mineral wool board industry, Shanghai Hengniu Technology and other enterprises are favorable to ZOZEN thermal oil boiler.
As a professional manufacturer of decorative materials in China, Hebei Amistrong Mineral Wool Board Industry Co., Ltd. mainly deals with mineral fiber ceilings, gypsum boards and ding boards, and exports its products to Russia, Australia, Korea, India and Singapore. As an important equipment of mineral wool board production line, thermal oil boiler provides stable heat source for forming and drying.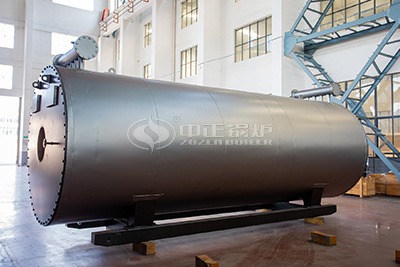 ZOZEN boiler has advanced processing technology, using efficient and stable mechanical welding and automatic welding for production, the weld seams have been X-ray real-time imaging and 100% water pressure test, to eliminate unqualified weld seams into the production line, to ensure that the quality of the gas fired thermal oil boiler is improved again. At the same time, the advanced control system can realize the automatic operation of the thermal oil boiler system, which is not only easy to operate, but also has interlocking protection function and strong safety, which makes Amestrong mineral wool board industry praise ZOZEN boiler.
At the same time, in order to reduce the operating cost of enterprises, ZOZEN Boiler recovers high temperature flue gas through waste heat boiler, and heat exchange with waste heat boiler to produce steam for heating mills, glue making and other equipment requiring steam heat source, which further improves the utilization rate of fuel and ensures that the overall thermal efficiency of organic heat carrier boiler is up to 95% or more.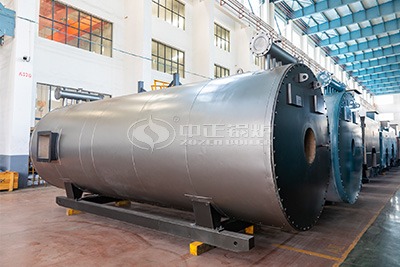 It is worth mentioning that ZOZEN boilers factory independently developed and designed the water pressure test bench, which can drain the water left inside the boiler after the water pressure test, significantly reducing the dehydration time when commissioning the thermal oil boiler. Under normal circumstances, it takes about 10 days to boil a 6 million calorie thermal oil boiler, but ZOZEN boilers only need 2 days, which can save customers nearly 30,000 yuan in the middle. ZOZEN keeps improving and upgrading the quality and performance of thermal oil boilers, providing a solid and reliable heat source support for the production and development of many building materials and wood enterprises. Welcome to contact us for consultation at any time.