As a leader in the domestic industrial boiler market, ZOZEN boiler provides more cost-effective boiler energy system solutions for Guangxi calcium carbonate. With advanced equipment and strong R&D strength, the boilers produced by ZOZEN Boiler have the advantages of both high quality and high performance, and have established a good market reputation. Meanwhile, ZOZEN boiler products cover gas boilers, biomass boilers, circulating fluidized bed boilers, thermal oil boilers, etc. According to the actual process conditions of customers, we can recommend the appropriate furnace type and tailor-made system solutions.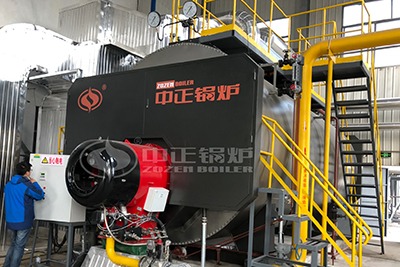 The new autoclaved aerated concrete production line project mainly uses calcium carbonate to produce new energy-saving wall materials such as aerated concrete blocks and panels, and the production line adopts WNS type gas steam boilers produced by ZOZEN Boiler. In the aerated concrete industry, the main task of the boiler is to provide steam for production equipment such as autoclave and pre-curing kiln, so as to carry out high-pressure steam maintenance of aerated concrete blanks. In this process, the performance of the boiler will directly affect the quality of the finished aerated concrete products.
WNS type gas steam boiler is designed with a large furnace chamber, which has sufficient steam storage space and heating surface to produce high thermal power and high quality steam more efficiently. At the same time, ZOZEN boiler also understands that the more suitable temperature for autoclave maintenance is 175 ℃ or above, so the gas steam boiler for its optional rated working pressure is 1.6Mpa, and the rated steam temperature can reach 204 ℃, which can well meet the production requirements.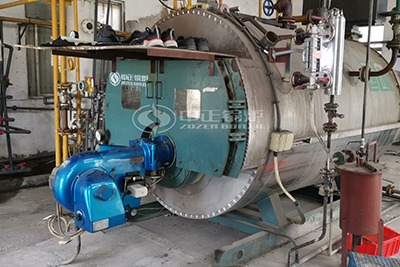 ZOZEN gas steam boilers not only have high actual thermal efficiency, but also are more intelligent and easy to operate. The boiler system has added two technologies, condensate recovery and flue gas waste heat recovery, which are tailor-made by ZOZEN, to achieve energy and water saving. The intelligent control system of ZOZEN reduces the operation difficulty of the furnace operator, which ensures stable operation and saves the operation cost for users.
As an industrial gas boiler supply manufacturer supporting enterprise production, ZOZEN Boiler will gradually join the construction of calcium carbonate deep processing and the whole industrial chain project with high technology content products to help the high quality development of Guangxi calcium carbonate industry.