SZS series oil gas fired boiler is a double boiler barrel, vertical type, room combustion D type layout structure packaged water tube boiler. The burner is arranged on the front wall. After the fuel is burned in the furnace, the flue gas is discharged into the chimney through radiation heat transfer, superheater, convection tube bundle and economizer. The product has a compact structure, a small floor area and good flame filling degree. With the lower support, it can expand upward freely. The membrane wall structure is used for the water cooling wall and the convection flue, which has good sealing and effectively reduces the use and maintenance workload of the firebrick. The outer packing adopts color steel plate with beautiful appearance and beautiful appearance. Automatic combustion machine, high combustion efficiency and ignition program control and overpressure, flameout protection devices; Fast installation structure can effectively shorten the installation cycle.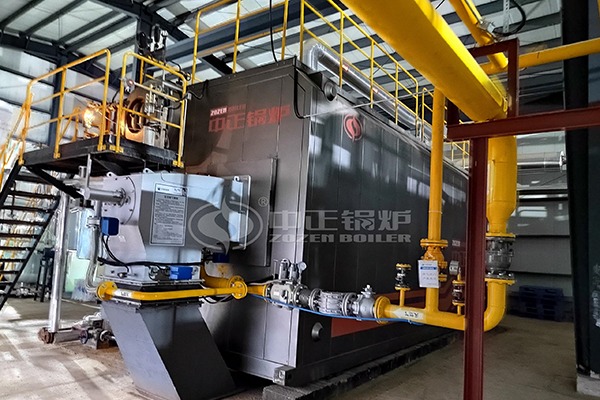 SZS Series Oil Gas Fired Boiler Parameters
Steam boiler: 20 t/h – 110 t/h
Boiler pressure classes: 1.25 Mpa – 5.3Mpa
Available fuel: Nature gas, coke oven gas, blast furnace gas, carbon black off-gas, biogas, LPG, diesel, heavy oil, light oil, crude oil, etc.
Application: Steam boiler is widely used in various industrial industries, such as textile, chemical, paper, machinery, food, agricultural products processing industry, etc. Hot water boiler is widely used for heating, bathing and domestic hot water in hotels, schools, hotels, communities and other enterprises and institutions
SZS series boilers have the advantages of full combustion, pollution-free emission, convenient operation and installation, etc. High thermal efficiency, large output, strong load adaptability, high degree of automation, convenient operation, safe and reliable operation, is an ideal high efficiency, low consumption, low pollution green environmental protection products; Coupled with the implementation of the national policy of strengthening the coal-fired boilers, this series of boilers will play a very important role in the future thermal equipment application field.
Common tonnage used in various industries: 10 tons SZS gas steam boiler, 20 tons SZS gas steam boiler, 25 tons SZS gas boiler, 30 tons SZS type gas boiler, 45 tons SZS boiler, etc. ZOZEN boiler products in more than 100 countries and regions in the world there are success stories, including the United States, Australia, Pakistan, Bangladesh, Thailand, Vietnam, Malaysia, Indonesia, the Philippines, South Korea, Fiji, UAE, Saudi Arabia, Qatar, Egypt, Albania, Croatia, Algeria, Kenya, South Africa, Mongolia, etc.
ZOZEN has more than 30 years of experience in oil gas fired boilers. WNS and SZS series boilers are our most mature products and have passed ASME, ISO9001-2008 and other certifications. All products have been 100% factory inspected to ensure high quality. We provide one year quality warranty service, please rest assured to buy.