Case name: 20Ton SZS condensing gas-fired steam boiler project in paper mill
Project type: complete project (equipment and supporting equipment provision, installation and commissioning)
Project supporting boiler: SZS20-2.5-Q
Project boiler medium: steam
Project quota output: 20 tons/hour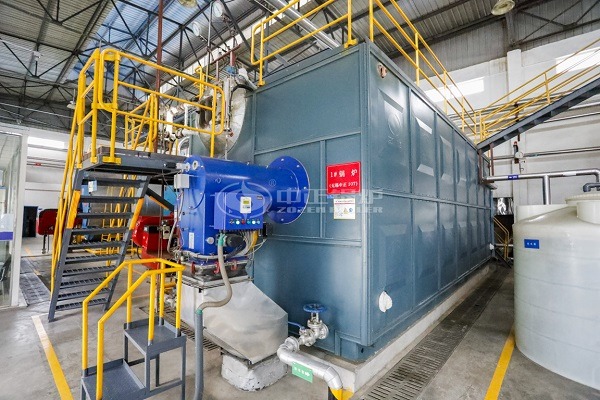 The products of this paper mill are toilet paper rolls, facial tissues, handkerchiefs, napkins and other series of household papers. Because the paper mill uses 100% imported virgin wood pulp as raw materials, the paper products must be sterilized at high temperature. Therefore, the paper mill chose to cooperate with our company. Our company's SZS series 20Ton condensing gas steam boiler burns fully and efficiently. High, low energy consumption, clean and pollution-free, high-temperature steam is generated through energy conversion, which helps paper mills achieve various technological purposes such as cooking and drying. The 20 Tons SZS gas boiler is a self-contained boiler, which can shorten the installation period while meeting the transportation size requirements. At the same time, the aluminum casing and the frame are connected by bolts, which is convenient to disassemble and repair.
Customer feedback: Compared with other paper products, living paper has more disinfection and sterilization processes, so the requirements for steam are higher. Our company uses 100% imported virgin wood pulp to produce household paper, so it is very important for us to choose a boiler with full combustion, high efficiency and low energy consumption. Through various investigations and comparisons, we purchased the Zozen Boilers SZS20-2.5-Q condensing gas-fired steam boiler. This steam boiler has full combustion, very low energy consumption, greatly improved production efficiency, and is very suitable for our company.
The SZS series gas fired boiler adopts the design idea of cascade waste heat recovery of flue gas. A flue gas condenser is provided at the tail of the boiler body, which reduces the flue gas temperature (<70°C) and improves the efficiency of the boiler while reducing the flue gas. Harmful ingredients. The steam boiler adopts slight positive pressure combustion, and the furnace wall tube is a full membrane wall structure. It has a certain pressure-bearing capacity, and no smoke or air leakage will occur when operating under slight positive pressure.
The condensing gas-fired steam boiler adopts the world's most cutting-edge combustion and flue gas circulation technology to achieve ultra-low nitrogen emissions. The measured nitrogen oxide can reach 21mg/m3, and the boiler thermal efficiency can reach 99%. Energy saving and environmental protection have become the priority of customers in various industries. Choice. Zozen Boilers can be equipped with an online monitoring system of the Internet of Things, which can not only have ultra-low emissions, but also run around the clock, and is monitored and operated by the factory at all times, making it a safe choice for customers! The SZS series boiler has a large furnace volume, sufficient fuel combustion, and good fuel adaptation; sufficient heating surface and large enough steam and water space ensure stable boiler parameters. The 20 Tons SZS gas boiler adopts an airtight inner protective plate with a fully enclosed welded structure as a whole, and the outer layer adopts a corrugated pressed protective plate, which has a beautiful appearance.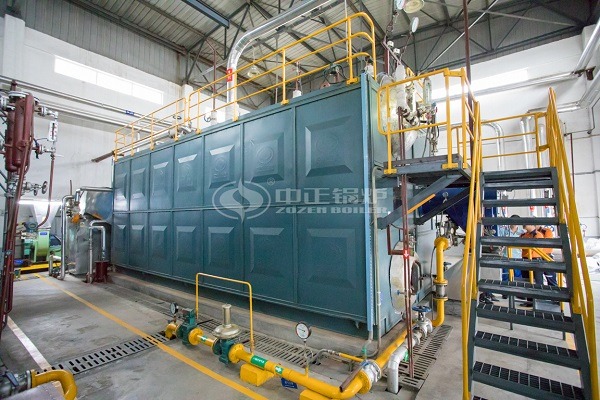 SZS series steam boilers have inspection holes on the diaphragm wall of the convection tube, which provides great convenience for maintenance and inspection in use. The 20 Tons SZS gas boiler has no air leakage, small exhaust heat loss, and high thermal efficiency. The steam boiler adopts natural circulation and a large cross-sectional ratio, equipped with well-known high-efficiency brand burners, auxiliary machines and accessories, so as to achieve fully automatic operation. This series of gas boiler feed water pump adopts continuous electric regulation, and has high and low water level alarm interlock protection function. The furnace is equipped with inspection holes, which provide great convenience for use and maintenance, and the furnace top is equipped with an explosion-proof door.