Project type: Optoelectronic Product Manufacturing
Project supporting boiler: WNS8-1.25-Q
Project boiler medium: steam
Project quota output: 8 tons/hour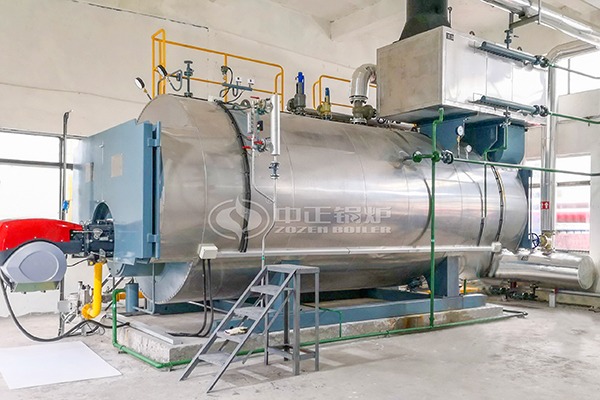 Case Introduction
The main processes of the customer's highly reactive copper oxide project include dissolution, filtration, dewatering, and static drying. A steam boiler in stable operation provides the necessary heat source for the production process. ZOZEN's boiler design team customized a WNS series gas-fired steam boiler system with an output of 8 ton steam per hour, taking into account the actual production line usage requirements and the location structure of the boiler room. According to the customer's production process requirements, this 8 ton steam boiler system is equipped with a fully automatic intelligent control system with a high degree of automation, which is adjusted to match the control system of the project production line with the production demand.
ZOZEN's gas fire tube boilers are equipped with energy savers and condensers at the end of the flue, effectively absorbing waste heat from the flue gas, lowering the exhaust temperature and increasing the boiler feed water temperature, thereby reducing boiler energy consumption and improving the overall thermal efficiency of the boiler, ideally up to 98%, effectively helping companies achieve the goal of energy saving and emission reduction. WNS series steam boiler is installed as a whole when the boiler is manufactured at the boiler factory, and delivered to the customer for delivery to the project site where only simple linking of external piping is required before they can be put into operation, which largely saves installation time and is ideal for customers with tight project schedules.
Costomer Feedback
This boiler from ZOZEN has a beautiful shape and small footprint, which easily meets the boiler room design specifications. The steam boiler produces sufficient and stable power to meet the heat demand of our production line. As a well-known boiler brand, ZOZEN has a good reputation in the whole industry and is a reliable partner.